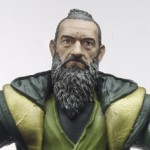 Thanks to io9 for getting this exclusive and breaking the news, but yes you read right, Hasbro is releasing a 6″ movie figure of Sir Ben Kingsley as The Mandarin from Iron Man 3! The figure is set to release this Fall, as part of the Iron Man Legends series currently put out by Hasbro. It's the same series in the Iron Monger Build-A-Figure line, though since when this figure gets released all the pieces to build Iron Monger will have already been put out, I don't know if he'll come with a BAF piece or what they're planning to do. Stay tuned here for any updates on that.
You can buy all the current Iron Man Legends figures (sans The Mandarin) at BigBadToyStore right now!
Continue after the jump for the full image!