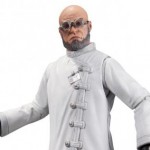 Ever since the Arkham City toy line was announced, fans have clamored for a figure of Hugo Strange. He's the penultimate villain of the game (mostly), so I would think he deserves a figure. Well it seems DC Collectibles agrees, and they're releasing him as a 2013 San Diego Comic-Con exclusive. This may cause some fans to groan, since it's not always the easiest thing to get a hold of SDCC exclusives if you don't go to the show, but I'm sure the figure will find its way to fans that want it. This is definitely better than them not releasing the figure at all, and I can understand the decision to make Hugo Strange a 2013 San Diego Comic-Con exclusive.
Shop Amazon for Arkham City figures.
Continue after the jump for details on pricing and the full image!

The third, Batman Arkham City: Hugo Strange was sculpted by Sam Greenwell. The Hugo Strange Action Figure is based on the designs of the critically acclaimed video game from Rocksteady Studios and Warner Bros. Interactive Entertainment, Batman: Arkham City. He measures approximately 6.75" tall and is priced at $29.95.