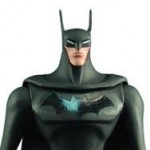 An image has been circulating the web today of the upcoming Beware the Batman 6″ figure set to be released in the Batman Unlimited toy line from Mattel. It's hyper stylized to match the show, and more or less has the same kind of articulation we've come to expect from DCUC figures.
Shop Amazon for Batman Unlimited figures
Continue after the jump for the full picture!

Obviously this won't be for everybody. I'm going to wait until I see the cartoon to reserve judgement, as I always do, but I don't hate the new style. It's interesting for sure, and catches the eye. The figure is, at the very least, an extremely faithful representation of the source material. And you can see he has ball jointed elbows to compensate for the lack of bicep swivel. Other than missing an ab crunch, everything else looks to be about on par for DCUC articulation. I wonder if he'll come with any accessories.