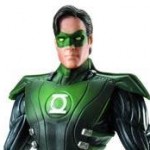 Another figure revealed today is the upcoming Injustice Green Lantern figure that's going to be a part of the DC Comics Unlimited toy line from Mattel. It looks like it fits in with the other Injustice figures currently out now, but instead of being based on the regular version of Green Lantern from the game, it looks like it's based on his "Regime" alternate costume in the game.
Shop Amazon for Injustice: Gods Among us figures.
Continue after the jump for the full image!