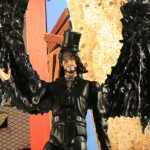 Today, the season finale of Zombies Vs. Ninjas premiered on Youtube. This marks the second appearance of my custom Aurelio Voltaire action figure being used in this show. To check out the full story behind this experience, check out the post I made last week when the first episode with my custom premiered.
For the new episode, continue after the jump and check out my action figure fully animated!

This was a great experience, and I have to give a serious thanks to Michael Granberry for making it happen. It's one thing to make these custom action figures every day, but to see one fully animated is something else. I hope you enjoyed it.