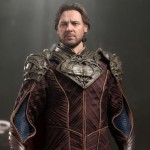 Hot on the heels of their 1/6 scale Man of Steel Superman reveal, Hot Toys has now unveiled their 1/6 scale Man of Steel Jor-El figure on the Hot Toys Facebook page. The figure has an amazing likeness to actor Russel Crowe, and the figure comes with that cool Kryptonian gun that Jor-El used in the movie. Any fans of Man of Steel should be excited for this one.
You can pre-order Jor-El right now on Sideshow Collectibles!
Continue after the jump for hi-res images and details!

~ Movie Masterpiece Series ~

The 1/6th scale Jor-El Collectible Figure's special features:
– Authentic and detailed fully realized likeness of Jor-El in the movie
– Head sculpt featuring authentic likeness of Russell Crowe
– Real-like facial expression with detailed wrinkles and gesture
– Detailed hair sculpture
– Approximately 30 cm tall
– Body with over 30 points of articulation
– Three (3) pairs of interchangeable palms including:
One (1) pair of relaxed palms
One (1) pair of fists
One (1) pair of gun holding palms
– Each piece of head sculpt is specially hand-painted

Costume :
– One (1) set of one-piece blue costume with embossed pattern
– One (1) brown robe with detailed tailoring
– One (1) chest and shoulder armor
– One (1) dark red cape
– One (1) pair of black boots with embossed pattern

Weapon:
– One (1) Kryptonian gun

Accessory:
– Diamond shaped figure stand with Jor-El nameplate and movie logo

Artists:
– Head Sculpted by Im Jung Hyuk
– Head Painted by JC. Hong
– Head Art Directed by Yulli
** Prototype shown is not final, pending licensor approval
** Product details could be subjected to change without further notice

Release date: Q1, 2014
Click on each thumbnail to enlarge!
What do you think of the figure? Will you be adding the Hot Toys Man of Steel Jor-El 1/6 scale figure to your collection? I know I will! And remember, you can pre-order the Hot Toys Jor-El figure right now on Sideshow Collectibles!