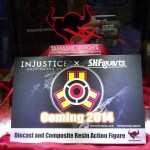 This was revealed at the 2013 San Diego Comic-Con at the Bluefin Tamashii USA booth. It looks like yes, we will be getting a line of S.H. Figuarts Injustice Gods Among Us figures, and that is incredibly awesome. I've been saying for years that DC needs some S.H. Figuarts figures, and while this line isn't for general DC, it's still pretty awesome.
There were no figures on display at SDCC, just a plaque with the announcement. However, if you go to the Bluefin Tamashii USA Facebook page, you can make your voice heard on which characters from Injustice Gods Among Us you want to see made into action figures! Now, don't get your hopes up about them starting a line of classic comic book DC characters. Mattel is still the master license holder, and they get first dibs on any type of figures. This is clearly a special line, since it just deals with Injustice Gods Among Us designs, but I have high hopes for how the designs get translated into S.H. Figuarts action figures.
Before anyone asks, S.H. Figuarts figures stand on about a 5.5″ scale. So it's not quite a 6″ scale for those hoping to integrate them into other collections, but they're always so highly detailed and posable that you never even care. So which characters from the game do you want to see made? Be sure to let them know!