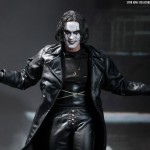 So it seems fans were right yesterday about the teaser image Hot Toys posted when they thought it was of a figure of Eric Draven from The Crow. Hot Toys has now fully revealed their upcoming The Crow Eric Draven 1/6 scale collectible figure. The figure looks like it comes with a great assortment of accessories, not to mention a fantastic outfit and a really good likeness to Brandon Lee.
Visit Sideshow Collectibles to pre-order this figure now!
Continue after the jump for more info and lots of hi-res photos!

Hot Toys posted this information with the reveal:
The enigmatic man is here.

The 15th ACGHK is less than 24 hours away and the special edition of the following collectible figure is only available for pre-order during the event for fans in Hong Kong!

Based on the book of the same name by James O'Barr, The Crow's story follows Eric Draven, portrayed by Brandon Lee – son of the legendary Bruce Lee, who is revived from the dead to avenge his own murder as well as that of his fiancée by a gang of thugs. Hot Toys is proud to present the 1/6th scale Eric Draven Collectible Figure from this visually stunning and critically successful film.

The movie-accurate collectible is specially crafted based on the image of Brandon Lee as Eric Draven in the movie. It features newly developed head sculpt, highly detailed outfit, accessories and figure stand.

Pre-order at Ani-Com:
Retail price: HK$1,380

For fans in Hong Kong, the special edition is only available for pre-order at 15th ACGHK and will include one (1) weather vane as bonus accessory.
(This special edition is for selected markets only.)
Click on image to enlarge. And keep scrolling for full gallery!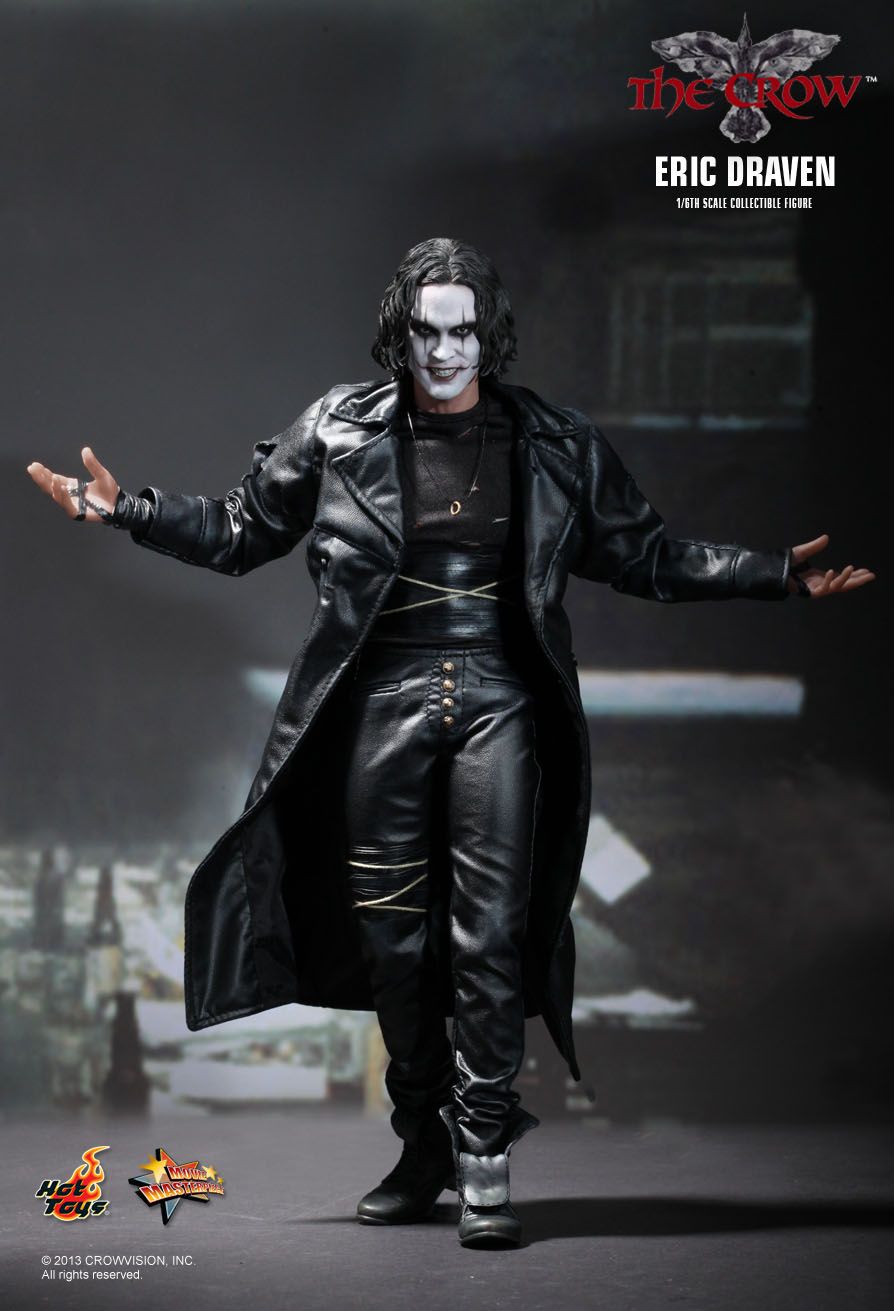 HK $1,380 converts to about USD $177.89, so not a bad price at all. The Crow is my absolute favorite film and comic book, so I have a very keen eye for the character and do have a couple of issues with the face sculpt. It looks like they didn't include the scar across the bridge of his nose, or the .45 shell casing tied in his hair, both nods to the original comic book. They're overlooked all the time, but I was hoping Hot Toys would catch those details. Perhaps the final production piece will add them, I'm not sure.
I still think this is a fantastic looking piece. I love all the accessories he's getting. I like the necklace with his engagement ring on it, that's a very nice touch. And the alternate hands are nice, two open palmed ones, two fists, and two hands to hold his guitar. And speaking of, the guitar looks amazing, the actual crow looks great, and Eric Draven's outfit looks spectacular. They really captured all the details of his costume in the movie. Now Hot Toys said that The Crow Eric Draven figure would be up for pre-order at this weekend's Ani-Com & Games Hong Kong convention, but I do hope that doesn't mean it's ONLY available there. I hope this goes up for pre-order at Sideshow Collectibles soon, as I really want to add this to my Crow collection. Hopefully more information about it will be released after this weekend. I'm sure some kind of North America distributor will pick it up.
What are your thoughts on the upcoming Hot Toys The Crow Eric Draven 1/6 scale figure? You already know how excited I am, let me know what you think! And don't forget to check out the full gallery just below.
Visit Sideshow Collectibles to pre-order this figure now!
Click on each image to enlarge.