It's been a little while since I last posted a custom. I've been hard away actually making them! But to break the fast, here's my latest project. It's a set of figures based on the classic arcade game Contra. The two main characters, Bill "Mad Dog" Rizer, and Lance "Scorpion" Bean, reimagined as movie concepts. I asked myself "what if Contra had been turned into a live action movie in the 80's?". Of course the only two actors on the planet who could play Mad Dog and Scorpion are Arnold Schwarzenegger and Sylvester Stallone, respectively. Heck, even the cover to the original game was traced over Predator movie stills. It just seemed perfect. Then all the right pieces fell into place, and after I sprinkled some magic customizing fairy dust (I need to be more careful around paint fumes), that was that! I also recreated three of the weapons from the Contra game: The Spread Gun, Machine Gun, and the Laser, using various acrylic rods and beads. They can easily be swapped between guns too.
The Contra Mad Dog and Scorpion custom figures are currently for auction on eBay. If you'd like to own these, please feel free to bid. If you know someone who might be interested, pass the link along.
And be sure to check out the full photo set and write up for how these customs were made by clicking a photo below, or by clicking right here.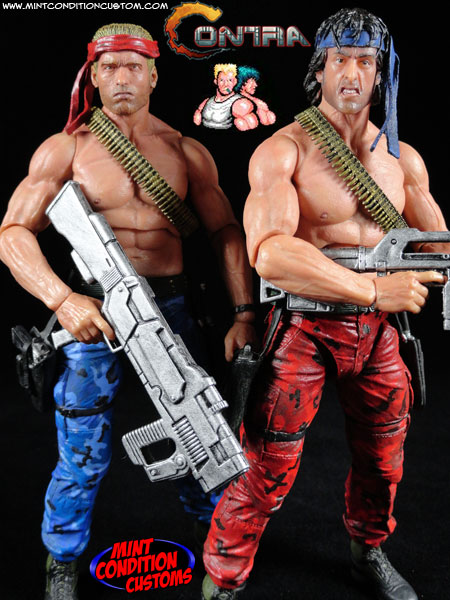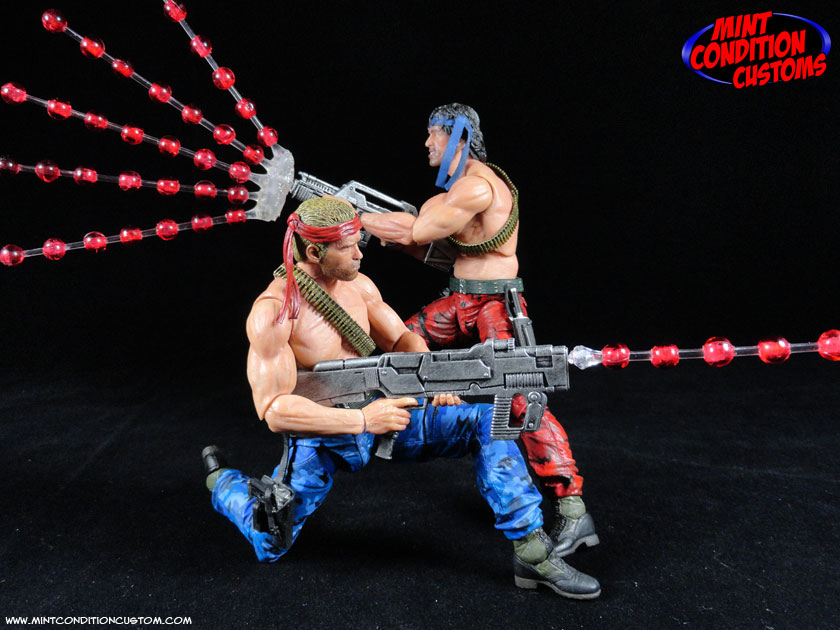 Thanks for looking!