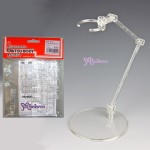 I thought I would share this for all my fellow action figure enthusiasts out there. If you're in need of some action figure stands, these are the best I've ever used. They pop up sometimes on eBay, and they're great. They're called Obitsu doll stands
, and they're from China. They're clear, multi-jointed, and have two different sized clips to accommodate several different sized action figures. They're cheap too.
I have a bunch that I've bought over the years, and they're perfect for flying characters, or just making a scene more action packed. If you have Marvel Legends, DC Universe Classics, or even Japanese imports like Figma, Figuarts, or Revoltech, then the Obitsu stands really are perfect.
Out of all the different figure stands that have been made over the years, the Obitsu stands are hands down my favorite. The seller seems to have a bunch in stock right now too, so if you need several, then you're in luck! I hope this helps out anyone in need of some awesome action figure stands. To buy the Obitsu stands, just
CLICK HERE or the photo below.