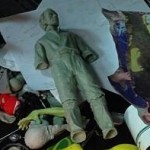 One of the reasons that NECA is one of the coolest action figure companies out there is that they love throwing early teasers up on the web, usually on their Twitter and Facebook pages. This is one of those occasions. NECA put up a photo on Twitter of their sculptor Jason Frailey hard at work on several projects. There seems to be a lot of Easter Eggs in the pic, but one that a lot of people are going to be interested in, myself included, is an in-progress sculpt of the upcoming NECA Aliens Bishop action figure. You can spot it right away in the picture. I know it's a very early sculpt, but it already has me excited!
Search eBay for all your NECA Aliens
needs!
Continue after the jump for the full picture!

Meet the maker, master sculptor Jason Frailey at work. What can you spy in that mess? Something cool for 2014 pic.twitter.com/a7f5O8iU20

— NECA (@NECA_TOYS) September 1, 2013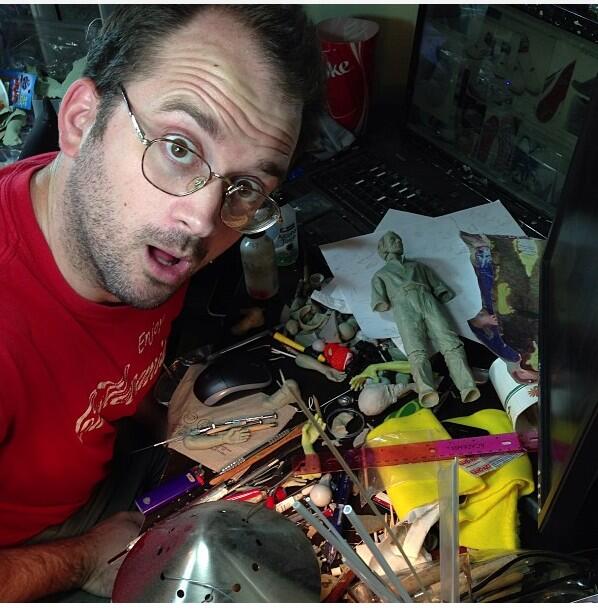 The NECA Aliens Bishop figure is due out in 2014. The rest of 2013 will see a second wave of NECA Aliens figures including a revamped original 1979 "Big Chap" Alien, a Xenomorph Warrior with blue highlights, and Sgt. Craig Windrix. Who is Sgt. Craig Windrix? CLICK HERE to read up on the story behind this brand new Colonial Marine. The rest of this year is also going to see some two packs, such as Corporal Hicks and a battle damaged Xenomorph, and Hudson with his own battle damaged Xenomorph, as well as a light up Alien egg with launching facehugger! If you still need to get caught up on the latest NECA Aliens figures, you can pick them up at NECA's eBay store
or on Amazon
right now, including the new Aliens Genocide two pack. Let me know in the comments how many other Easter Eggs you can spot in the picture!