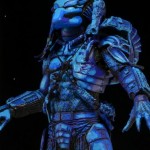 We all know how much NECA loves teasing their upcoming figures. Today on the NECA Twitter page, they showed off an image of their upcoming Predator figure painted to look like his classic NES video game sprite. It's becoming its own niche series with NECA now, repainting their figures to look like their old video game sprites. The latest is their classic video game appearance Robocop on sale now in their eBay store
. The Predator will be packed in a box made to look like the old NES Predator game case, just like the other classic video game figures they've done. And check out that paint job! Even if it didn't like to the old video game it still looks fantastic. The Classic Video Game Appearance Predator is set to go on sale sometime this Spring.
Continue after the jump to check out the full image!