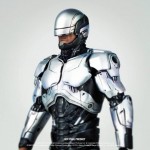 A few days ago, Hong Kong based toy company Threezero posted images of their upcoming 2014 Robocop 1/6 scale V1 and V3 figures. V1 is the first version of Robocop we'll see in the movie, with his silver chrome look, and V3 is the all black version we've seen in most of the promotional material. Whatever your feelings on the Robocop reboot are, you have to admit these look like amazing figures.
Continue after the jump for all the pics!

When Alex Murphy – a loving husband, father and good cop gets critically injured in the line of duty, OmniCorp sees their chance for a part-man, part-robot police officer. OmniCorp envisions a RoboCop in every city and big profits for their shareholders, but there is still a noble man inside the machine pursuing justice.