<< Back to Custom Figure Archive
---
*** Head on over to my Ebay Auctions to see what's available this week, or commission me if you'd like your very own custom action figure like this one. ***
In continuing with my project of making Mortal Kombat prop replicas, and with being tasked with doing things I've never done before, I was asked to make a fireball, similar to the ones that Liu Kang fires from his hands in the game. The two caveats of the project was that it had to be able to look like it was shooting from your hand, and it had to light up. Not a problem, per se. I know how to wire LED circuits, and I had a pretty good idea of how to start, so I went at it.
The "skeleton" of the fireball is made from aluminim foil. The lights are actually from a strong LED strip that you attach to cars. I picked it up at my local Auto Zone. It's expensive, but worth it for what I needed. I just had to rewire it so it hooked up to a switch and then to the battery so it could be turned on and off. Luckily the back of the LED strip had glue on it and so I just wrapped it around the aluminum foil skeleton, more or less guessing where everything was going to sit at this point.
Then I began anchoring everything with hot glue. It was the only thing I could think to use to make it clear, and it's inexpensive and easy to work with. But I definitely had to use a lot of hot glue for this. Slowly, but surely, it began to take shape. I made sure not to cover the switch, and to leave space for a battery compartment. The battery compartment was constructed from clear styrene with the top covered in hot glue. It's held in place by friction and holds nicely. The battery doesn't fall out at all, and the compartment is easy to remove.
After that, I made the wrist mount. I used a metal doll stand and bent it to the shape of a wrist and palm. The big c-clip goes around the wrist. I covered it in foam for comfort, and used some velcro straps for support. It's easy to remove, is comfortable, and can easily be covered up in a costume. Then I made sure the end of the fireball had room for the mount to slip into. And after the glue was all cool, I painted it using clear yellow, orange, and red. I was trying to give a good balance so it looked good with the lights on and the lights off. And then it was complete. It fit great on the wrist mount, wasn't too heavy, and looked pretty darn cool with the lights turned on! I probably could have done better with hiding the switch, but I had never done anything like this before, and I really wanted to make sure it could be turned on and off. Overall, I'm happy with how this very strange experiment turned out.
Scorpion Spear and Posable Chain
---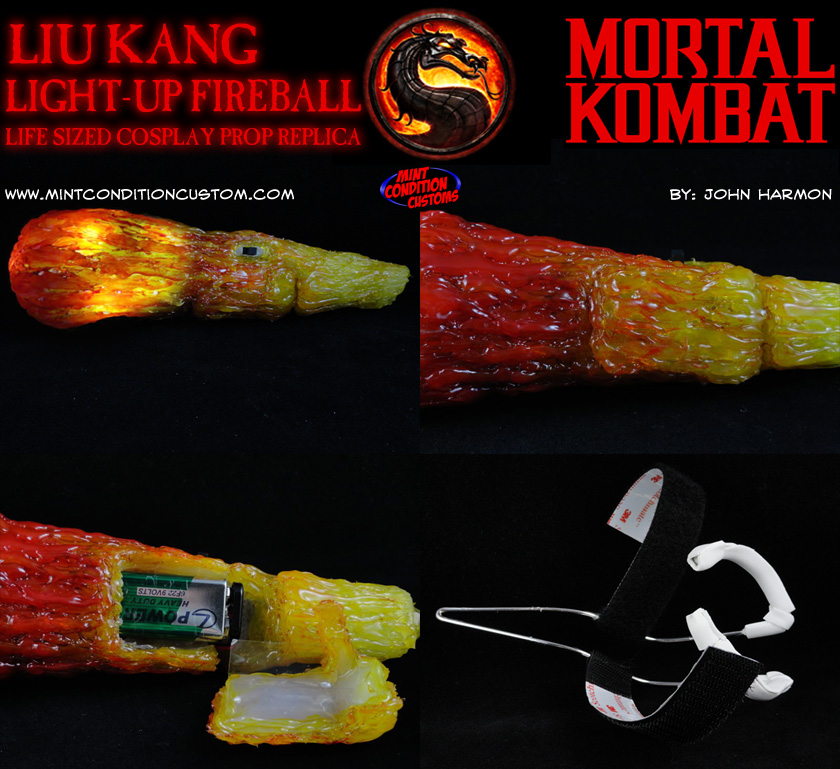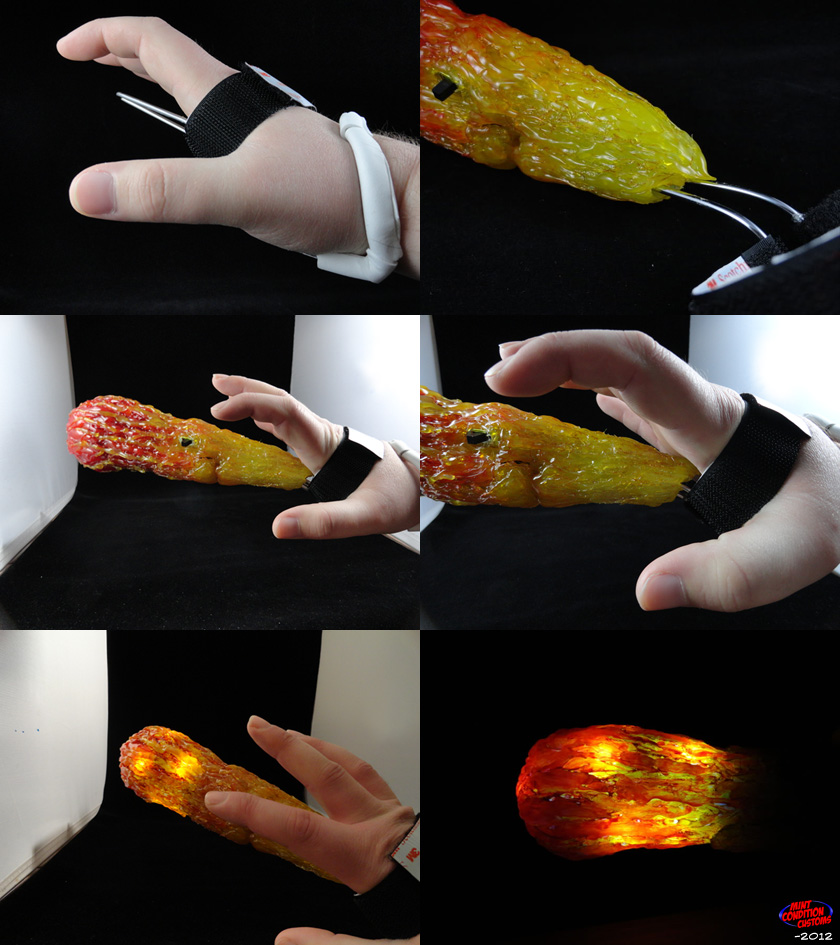 WIPS: