<< Back to Custom Figure Archive
---
*** Head on over to my Ebay Auctions to see what's available this week, or commission me if you'd like your very own custom action figure like this one. ***
A recent client wanted me to make a few items that I don't normally do while working on custom action figures. I was requested to make three life sized prop replicas based on the Mortal Kombat video game series. One of those replicas was to make Scorpion's spear head and attach it to a fully posable chain and make it look like it's coming straight out of your hand. Sounds…easy enough, right? And yes, he did want it to be a chain, as in with links and such. Not a rope or metal cord like he uses in the games. Fair enough, I thought I could do that.
I decided that the hardest part was figuring out the chain, so I decided to tackle that first. After many many MANY failed experiments with real chain, I convinced him to let me use something lighter. I picked up some costume chain, because it's incredibly light, but looks realistic enough to pass. Then, I took some very heavy gauge bendable wire and drilled holes into each link and passed it through them. It's hardly noticable, unless you're really looking for it, and it was strong enough to hold the chain in any pose (even straight out!). I made sure to leave some wire sticking out at the end to attach the spear head onto.
After that, I made the wrist mount that the chain would sit on. I had to get a little clever here. What I did was take a doll stand and bend it into a more ergonomic shape for a wrist and attached it to the first chain link. I utilized some velco straps and attached them to the wrist mount, so it would be easy to take on and off. I wanted to make something that would be comfortable, easy to remove, be easy to cover up in a costume. So then began the making of the spear head. At first my client wanted it to be made of real metal. But since I don't work with metal, nor do I have the tools to do so, I convinced him to let me make it out of polystyrene. I wanted to do this so it would be light, and because like I said…I'm not a metal worker. So I began by cutting out the shape I need out of some thick styrene, and attached smaller pieces onto each side of the blade and handle, making them smaller and smaller to kind of give me a rough 3D shape of what I need. Then I began the long and arduous task of sanding the crap out of it.
I used my dremel to get the rough sanding down, but for the precision work and smoothing out, that had to be done by hand. With just sand paper. Suffice it to say my fingertips were very raw by the end of this project. After that I but the blade more to shape and made it look clean. But even after all that sanding, I wasn't finished. I then added a thin layer of Aves Apoxie Sculpt over the blade, and some on the handle as well, and then after curing I sanded that down, getting the perfect shape I needed for the spear head. After it was finally smoothed out and perfect, I painted it with several layers. First flat black, then gun metal, and then dry brushing mithril silver over the entire thing. And then I dipped my fan brush in some diluted insignia red and basically used the raspberry method of paint spattering. Just blowing raspberries with my lips in front of the brush gives it a really good spatter look. So then I just drilled a hole in the bottom and attached it to the spear, and it was all finished. Not bad considering it was my first time doing something like this, if I do say so myself.
---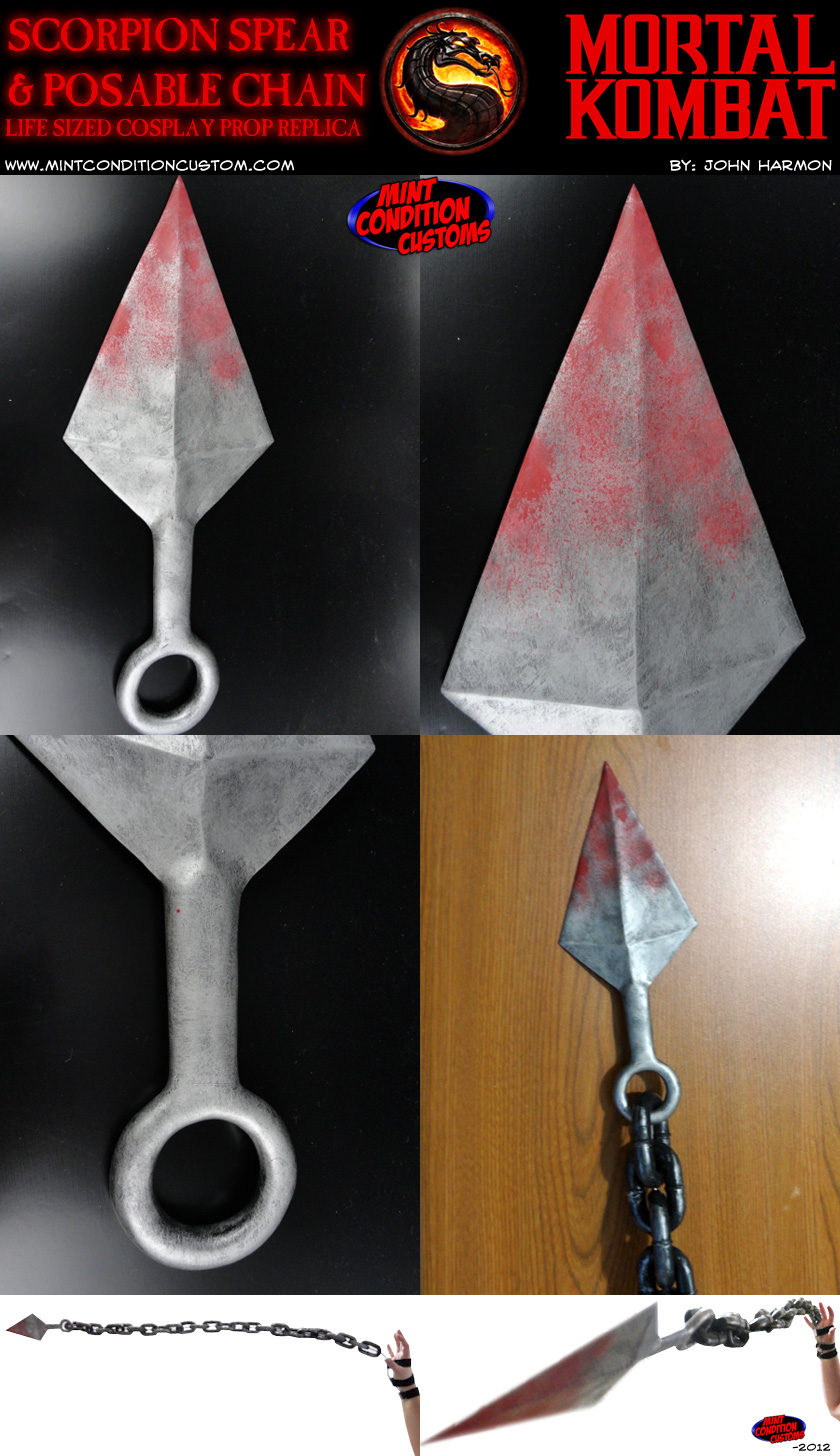 WIPS: