<< Back to Custom Figure Archive
---
*** Head on over to my Ebay Auctions to see what's available this week, or commission me if you'd like your very own custom action figure like this one. ***
I got the inspiration to do this after seeing another customizer's version and thought it was brilliant.
So I basically took his idea, and used the head from an X1 Magneto (which took a lot of dremmeling) on a Movie Blackheart body. However, I used a different paint job. I painted the hair brown for a base coat, then did a light dry brush with a lighter brown, and then drybrushed some gray to get the right look I was going for.
Now I have a Magneto head on a Blackheart body…which, looks like a Magneto head on a Blackheart body. I needed to do more. So as to avoid it looking exactly like Blackheart, I took the coat from my Vampire Xander figure (Buffy obviously) and put it on Blackheart because it looked like the coat from when we first see Mephisto in the movie. But I also decided I liked the collar on Blackheart's coat, so I cut it off and glued it to the Xander coat, and filled in the holes with apoxie to make it seamless. Then I painted it with gloss black and did some drybrushing with flat black so it wouldn't look overly shiny.
I also painted Blackheart's hands black to simulate gloves…as you have probably guessed, I wanted to mix the various styles of clothing Mephisto wore in the movie. Then I took a very very very VERY tiny amount of apoxie and sculpted him a ring on his left pinkie (like in the movie). And I painted it to match the colors of the movie. Gold ring, with a red jewel (probably a ruby). I just painted it gloss yellow and washed over it with gold and used gloss red for the jewel which I'll be calling a ruby.
And now for…the cane. I love how it turned out. The staff of the cane was randomly found in my fodder bin…I think it went to an old Gambit figure, I'm not sure. But it's hard plastic so no warping here. The skull (and I attribute this idea completely to PureToreador) came from one of the new Indiana Jones figures. Indy came with a hand that was holding the crystal skull, but the hand and skull were one piece. So I took my X-ACTO knife and carved off the hand, and carved the skull to look human. I was going to use a dremmel, but I tried it a bit and it made it look very grainy…not clear. So my method worked out great. Then I drilled a small hole at the base of the skull, and put some krazy glue in it and inserted the staff. Then I painted the cane black, and sculpted on some apoxie under the skull to match the weird gothic look his cane had in the movie. Then I just used gloss silver to paint that part with some black drybrushing.
And voila! A Movie version of Mephisto worthy of tricking you out of your eternal soul to be his demonic bounty hunter.
---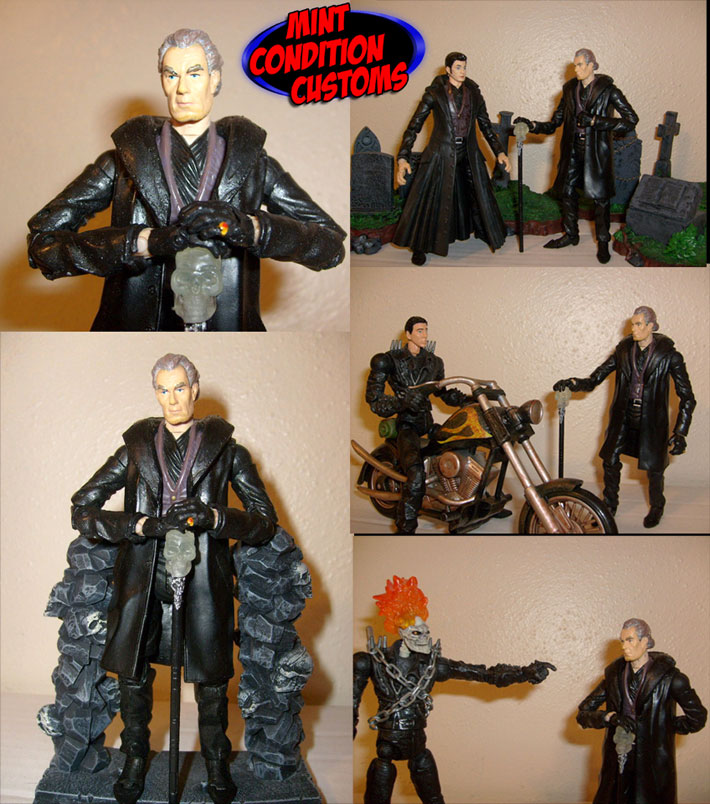 WIPS